2018 Audition Judges
Alla Voskoboynikova, Pianist
Alla Voskoboynikova performs extensively as a soloist and a collaborator, regularly accompanying members of the St. Louis Symphony Orchestra and coaching for the Union Avenue Opera Company as well as the Opera Theatre of St. Louis. Since 2004, she has held the position of Director of Keyboard Studies at the University of Missouri-St. Louis.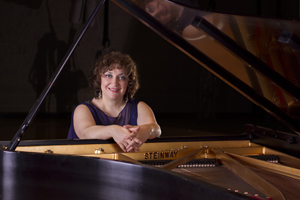 Before moving to the United States in 1996, Alla Voskoboynikova was a pianist and vocal coach at the Kiev Opera and Ballet Theater in Ukraine. She received her Bachelor's Degree in Piano Performance from the Music College in Voronezh, Russia and her Master's Degree in Piano Performance from the Gnessins Academy of Music in Moscow, Russia. Her teachers were Oleg Milman and Lina Bulatova (student of Elena Gnessina and Henry Neihaus). Alla was an accompanist in the Tchaikovsky Competition in 1996 and has performed numerous solo recitals along with chamber music concerts in several European countries.
Since moving to the United States, Alla's collaborations have included concerts with St. Louis Symphony Orchestra concertmaster David Halen (violin), Melissa Brooks (violincello), Heidi Harris (violin), John Sant' Ambrogio (violoncello), Savely Shuster (violoncello), the STLSO Trombones, Stella Markou (soprano), the Arianna String Quartet, and Marlissa Hudson (soprano). Alla is an active member of the St. Louis Chamber Music Society, where she performs regularly as a soloist and collaborator. In 1998, Alla performed at Carnegie Recital Hall with flautist Brenda Hagni and in 2002, she performed Rachmaninov's Second Piano Concerto with the Webster University Symphony Orchestra. In February 2004, Alla was the Russian coach for the St. Louis Symphony performance of Sergei Prokofiev's Alexander Nevsky and coached the St. Louis Symphony Chorus for the performance of Sergei Rachmaninov's Vespers in November 2006. As a member of a duo, Alla performed John Adams' Halleluiah Junction with pianist Orli Shaham in 2008. In the past several years, Alla has organized a series of thematic chamber music recitals, including a  commemoration of Dmitri Shostakovich's 100-year anniversary, a commemoration of Felix Mendelssohn's 200-year anniversary, and a piano and winds recital, among others.
Alla is a passionate teacher. Her students regularly perform at prestigious St. Louis venues such as The Sheldon Concert Hall, The Ethical Society of St. Louis, Symphony Powell Hall, Touhill Performing Arts Center, and others. They also participate in MMTA and MTNA Auditions as well as regional Concerto Competitions. For the year of 2012, Alla has organized a concert tour in Russia which will include a series of piano recitals in St. Louis's sister city of Samara. As part of a cultural exchange between the two cities, her students John Nuckols, Tom Winkler, Daniel Dickson and Daniel Kuehler performed at the Samara Opera and Ballet Theatre and Samara Social Humanitarian Academy among others.

Alla resides in St. Louis with her husband Ilya Litvin, Russian born trumpet player and teacher. Their son, Boris, is a PhD student at Northwestern University.