2018 Winner Kelariz Keshavarz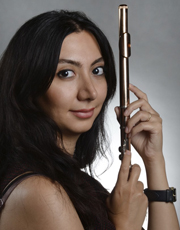 Flutist Kelariz Keshavarz is an award-winning flutist, performing classical and contemporary solo, chamber, and orchestral works internationally. 
She has appeared with the Missouri Symphony, the Odyssey Chamber Series, the Tehran Symphony, the Tehran National Orchestra, the Tehran Philharmonic, the Parsian Orchestra, the Nilper Orchestra, and the Camerata Orchestra. She has performed in Iran, Austria, Lebanon, and the United States. 
Ms. Keshavarz has also performed in many contemporary music and art festivals, at which she presented several world premieres. Ms. Keshavarz is excited about her upcoming project, her first solo flute album, which will consist of more than twenty newly commissioned works by contemporary Iranian composers. It is due for release in 2019.
Ms. Keshavarz's numerous honors include the Emerging Artist Award from the University of Missouri, the Missouri Music Teachers' Association Collegiate Division Award, and the Fajr International Music Festival Award. 
She recently received her master's degree in music performances from the University of Missouri, where she studied with Alice K. Dade. In spring of 2019 she will pursue her doctorate in music performance at Stony Brook University, where she will study with Carol Wincenc.
September 30, 2018 Concert - Kelariz Keshavarz, flute