2017-2018 Winner Brian Woods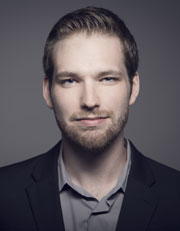 "The Artist Presentation Society saw my potential as a performer and opened up many doors necessary for a young pianist to achieve his dream of a concert career. I'm grateful for the enduring friendships and support I've received as I continue pursuing my goals as a professional artist. I'm proud to have partnered with such a gracious organization that is unshakeable in its commitment to artistic excellence and community engagement."
- Brian Woods
Pianist Brian Woods maintains an enthusiasm for performance that has earned him a reputation as one of his generation's most promising soloists and collaborators.
A native of Webster Groves in Saint Louis, Missouri, he has enjoyed great success in several distinguished competitions including the Music Teachers' National Association Young Artist Competition (Missouri Winner and West Central Division Alternate, 2017), the Vanderbilt University Concerto Competition ((Winner, 2011), and the Missouri Federation of Music Clubs' solo and concerto competitions (Winner, 2009). His solo performances have led him to a wide variety of venues, from university stages to Powell Hall, home of the Saint Louis Symphony Orchestra.
Following his debut concerto performances at age eighteen with the Vanderbilt University Orchestra, Brian continues to build an extensive concerto repertoire, ranging from Tchaikovsky and Liszt's First Concerti to Beethoven's Fifth and rahms' Second. He has since performed with the MasterWorks Festival Orchestra, the University City Symphony Orchestra, and the Vanderbilt Oratorio Orchestra and Symphonic Choirs. Woods' 2013 performance of Beethoven's Choral Fantasy was met with great acclaim from both audiences and the press. John Pitcher of ArtsNash wrote that "he plays with a convincing technique…Woods captured the music's dual sense of heroism and jubilation."
Woods has collaborated extensively with both instrumentalists and vocalists, including performances in a wide variety of venues for Roger Vignoles, Timothy Hoekman, and Leon Fleischer. He recently served on the staff at the Interlochen Center for the Arts as a collaborative pianist during the Summer Arts Camp.
Woods' studies have led him to work with Anton Nel at the Aspen Music Festival and School and with William Grant Naboré and Stanislav Ioudenitch at the Lake Como Summer Piano School in Italy. Additional studies include master classes for Robert McDonald, Gabriela Montero, Lydia Artymiw, and Jeremy Denk.
Previous teachers include Craig Nies, Donna Vince, and Margaret Kitto, as well as additional study with Frank Weinstock, Pamela Mia Paul, and Jerome Lowenthal. Woods currently studies with Robert Weirich at the University of Missouri – Kansas City Conservatory of Music and Dance.