2017-2018 Winner Brian Woods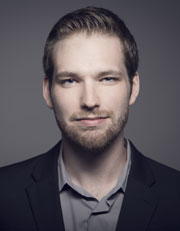 "The Artist Presentation Society saw my potential as a performer and opened up many doors necessary for a young pianist to achieve his dream of a concert career. I'm grateful for the enduring friendships and support I've received as I continue pursuing my goals as a professional artist. I'm proud to have partnered with such a gracious organization that is unshakeable in its commitment to artistic excellence and community engagement."
- Brian Woods
"He plays with a convincing technique…Woods captured the music's dual sense of heroism and jubilation." – ArtsNash
"Woods is a compelling young musician with a formidable technique and inspiring interpretations. His performances consistently reach the highest levels of artistry, and I look forward to watching his career develop in the coming years." – John O'Conor
Praised for his dynamic and thoughtful performances, pianist Brian Woods has emerged as a promising soloist in the United States and abroad. A native of Webster Groves in St. Louis, Missouri, he has enjoyed great success in several distinguished competitions including the Verona International Piano Competition, the Shenandoah Student Soloist Competition, and the St. Louis Artist Presentation Society Auditions. Such successes have led him to give solo performances in a wide variety of venues, from Powell Hall in St. Louis to venues in Italy and Ireland.
Following his debut concerto performance at age eighteen, Brian continues to build an extensive concerto repertoire, ranging from Tchaikovsky and Liszt's First Concerti to Beethoven's Fifth and Brahms' Second. He has since performed with such ensembles as the Masterworks Festival Orchestra, the University City Symphony Orchestra, and the Vanderbilt Oratorio Orchestra and Symphonic Choirs. Woods' concerto appearances have met great acclaim from both audiences and the press as his passionate and expressive performances attract a wide array of listeners, from classical music veterans to first-time audiences.
Past seasons have included solo performances in Washington D.C., St. Louis, Kansas City, Winchester, and Dublin, Ireland as well as collaborations with tenor Vinson Cole and cellist Julian Schwarz. His 2018-2019 season included various solo recitals in addition to performances with the Van Buren Winds and Shenandoah Conservatory Orchestra. His 2019-2020 season will feature several all-Beethoven programs in celebration of the composer's 250th Birthday.
Woods' studies have led him to work with Anton Nel at the Aspen Music Festival and School and with William Grant Naboré and Stanislav Ioudenitch at the Lake Como Summer Piano School in Italy. Masterclass appearances include performances for Robert McDonald, Gabriela Montero, and Jeremy Denk. Teachers include Robert Weirich, Craig Nies, Donna Vince, and Margaret Kitto, as well as additional study with Frank Weinstock and Jerome Lowenthal. He currently studies with famed Irish pianist John O'Conor at the Royal Conservatory's Glenn Gould School in Toronto. Visit www.brianwoodspianist.com for recordings and further information.