Jennifer and Matthew Mazzoni - 2013 Winners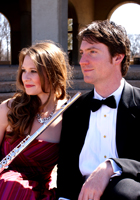 Flute/Piano Duo
"The artistic level sought by the APS inspired us to stretch our creative envelope and explore greater depths of expression and skill. To be counted amount past winners is a privilege. We benefitted greatly through every step of the process: the care and wisdom demonstrated by APS encourages us to take bold steps in the development of our careers."
- Matthew and Jennifer Mazzoni
As the Mazzoni Duo, flutist Jennifer Toro Mazzoni and pianist A. Matthew Mazzoni have been exploring the final frontier of classical music since 2004. Rehearsing in a toy-filled "cozy" condo to the background noise of an active 2 year old and a precocious 5 year old, Jennifer and Matthew prepare engaging and exciting programs that inspire, uplift, and challenge audiences throughout St. Louis and beyond. Meeting in a graduate entrance exam at Indiana University in 2003, the Mazzonis have appeared on stages together in Indiana, Kentucky, Illinois, Maryland, and Pennsylvania, as well as in the St. Louis Metro area. The Mazzoni Duo cares deeply about the arts in the church community, having recently recorded a CD of their favorite hymns, and they often play in churches as well as for educational wokshops.

Jennifer is a transplanted native of St. Louis and is a graduate of Webster University as well as Indiana University. When she is not playing hide and seek or folding laundry, she shares her love of music as an instructor at the Community Music School in Webster Groves. Past musical highlights include playing principal flute with the St. Louis Philharmonic, the Webster Symphony, the Indiana University Philharmonic orchestra, and the St. Louis Symphony Youth Orchestra, participating in the NFA Young Artist competition and being a prizewinner in the Kentucky Flute Society Young Artist competition, as well as appearing as a concerto soloist at Webster and Indiana University. She has also played with the Paducah and St. Louis Symphony Orchestras (it's not often that you see those two mentioned in a sentence together). She credits the guidance of her sage instructors, including Paula Kasica, Jan Gippo, and Thomas Robertello, for nurturing her deep desire for musical expression through the flute.

Matthew is a Pennsylvania native, and went to the University of Michigan and Indiana University before moving to St. Louis. Matthew is currently Director of Liturgical Music at Mary Queen of Peace Catholic Church in Webster Groves. As a former faculty member at Murray State University, in Murray, Kentucky, he collaborated in over 70 performances a year, taught theory, aural skills, and keyboard, and mentored young collaborative pianists. He has performed with nearly every instrument, from piccolo to tuba, and has appeared in several states, as well as Puerto Rico and Australia, as a chamber musician. His recent recording with flutist Kyle Dzapo is available worldwide on the Naxos label. In addition to his job as a music director, Matthew is an adjunct professor at Webster University, and has performed in various St. Louis venues, including the Sheldon, the Muny, the Christ Church Cathedral, and the Cathedral Basilica. In his spare time, Matthew studies musical scores and is a conducting aficionado. He is also a true blue Michigan football fan (as painful as it might be at times).

For more information, please visit mazzonimusic.com.