Karen Hauge, flute - 2013 Award Winner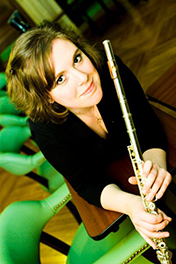 A native of New Jersey, Karen Hauge relocated to Kansas City in 2010 to pursue a Master's degree in flute performance at the Conservatory of Music and Dance at the University of Missouri-Kansas City. Hauge is currently an Artist's Certificate student at UMKC, where she is a student of Mary Posses and flutist of the Graduate Wind Quintet. During her time at the Conservatory, Hauge was the winner of the Missouri State Round of the Music Teachers National Association Competition in 2011, and named Alternate in the same competition in 2012. She has been a finalist in the UMKC Conservatory Concerto Aria Competition and won a fellowship to the Imani Winds Chamber Music Festival in 2011.

As a winner of the Artist Presentation Society auditions, Hauge will perform a solo recital in St. Louis in the fall of 2013. Recently, she was invited to be a concert performer in Brescia, Italy, at the esteemed William Bennett International Flute Seminar in August of 2013, where she will perform for Bennett and his former pupil, Metropolitan Opera Orchestra principal flutist Denis Bouriakov. Hauge has performed in master classes for such renowned pedagogues as Jeanne Baxtresser, James Galway, Paula Robison, and Leone Buyse. Active as a teacher as well, Hauge teaches both primary school music and private lessons, tutoring students in flute and piano studies.

A passionate advocate of arts culture, she is also a writer and senior editor of KCMetropolis, Kansas City's online arts journal. Hauge completed her Bachelor's degree in music education at the University of Delaware, where she studied with Eileen Grycky and graduated with highest honors upon completing and defending a thesis based on original research. While in Delaware, Hauge was the winner of the Delaware state round of the MTNA competition, three-time finalist of the concerto competition, winner of the Delaware Outstanding Musician Award, and second-place winner of performance prizes at the Julius Baker Master Class Series in 2009.