David Brunell - 1978 Winner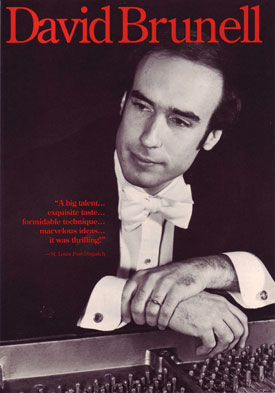 Dr. David Brunell is Professor of Music at University of Tennessee School of Music as of this writing in 2020.
He has concertized on four continents: North America (including Mexico, Central America and the Caribbean), South America, Europe, and Australia.  With numerous concerto performances with orchestras and solo recitals to his credit, his performances have also been broadcast on many radio and television stations in many countries including New York City's WQXR.
He has also made several recordings for Enharmonic Records in concerto, solo, and collaborative performances with such artists as violinist Andres Cardenes.
The many awards Dr. Brunell has received include first prizes in the Music Teachers National Association National Piano Competition, the Beethoven Sonata competition, and the prize for the best performance of the required work in the New Orleans International Competition.  He also won top prizes in the Young Keyboard Artists, New Orleans, and Louise D. McMahon International Competitions, and was selected to the Artistic Ambassador Program of the United States Information Agency.  As an Artistic Ambassador, Dr. Brunell premiered "Abandoned Bells" by distinguished American composer William Mayer.
Dr. Brunell is also an active church pianist.  He has recorded a CD of hymn arrangements by Mark Hayes, and has been heard performing sacred music on national television several times on Dr. D. James Kennedy's Coral Ridge Hour. 
As a teacher, Dr. Brunell's students have achieved distinctions including winning the MTNA Southern Division collegiate piano competition. Dr. Brunell's teaching awards include the Tennessee Music Teachers Association Teacher of the Year Award and the Tennessee Governor's School of the Arts Outstanding Teacher Award. 
Dr. Brunell's studies were at Indiana University, where he received the University's highest musical and academic awards, the Joseph Battista Memorial Award, the Performer's Certificate, and the John H. Edwards Fellowship.
Prior to coming to Tennessee, Dr. Brunell taught at Saint Olaf College and at Indiana University.  Dr. Brunell has also been a guest teacher at the Carson Newman College Summer Music Camp.
(Bio from the University of Tennessee)
Music Samples:
https://music.utk.edu/faculty/DavidBrunell_PublicityFlyer.pdf
Here is his bio:
https://music.utk.edu/faculty/brunell.php
Little Carnegie of the South presents David Brunell, Renowned Concert Pianist
Saturday, February 29, 2020, 7:30 pm